Seven years after his retirement from professional boxing Joe Calzaghe, whose last fight was against Roy Jones in Madison square garden in 2008, has decided to return to the sport as a manager.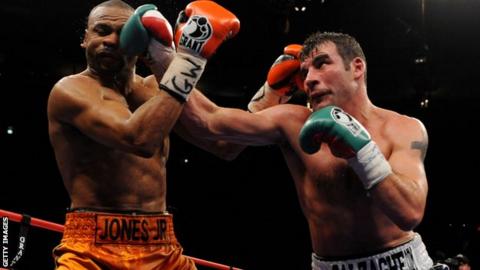 Calzaghe had what is unarguably one of the best careers in the world of boxing. During his days in the ring, he was undefeated. He fought in 46 career contests and never lost a single one of them. The former boxer, who is a legendary two weight world champion, has now decided to become a manager and guide youngsters who are new to the sport.
Calzaghe, who had such an illustrious career that a documentary was made about him, has secured his professional managers license. In fact, he has taken a step further to connect with promoters and prospective fighters.
He told BBC sport: "Managing is something that I will be good at."
While his return will bring joy to boxing fans all over the world, it will not come as a total shock seeing as the retiree seems to have been plotting his comeback for a few months. He has been conducting training sessions in the south whales for young amateur boxers.
According to him, he will focus on building up a team of fighters and hopes to work with trainers and promoters. He explained that he has no interest in playing either role. Addressing his decision to return. Calzaghe believes that his experience as world champion in the sport, having held the title for over a decade, will greatly help him in his new capacity as manager.
"You need a manager in boxing who is thinking about the fighters and what is best about their career.
"Sometimes if you are managed by your promoter it can lead to a conflict of interest. I miss boxing and in terms of finding a role back within the sport, this feels like a natural progression," the veteran said.